What is
Procurement Readiness?
"Procurement Readiness is demonstrated ability of a small business to effectively participate in the federal government contracting marketplace and successfully perform contract work." – Department of Veteran Affairs (2019)
Do-It-Yourself or Have Us Do the Heavy Lifting
Option 1: DIY with an Affordable Monthly Payment
Inclusive Step-by-Step Project Management with Monday.com
Guides & Training for Execution 
Remote Chat & Email Support from Our Team of SMEs
Work at Your Own Pace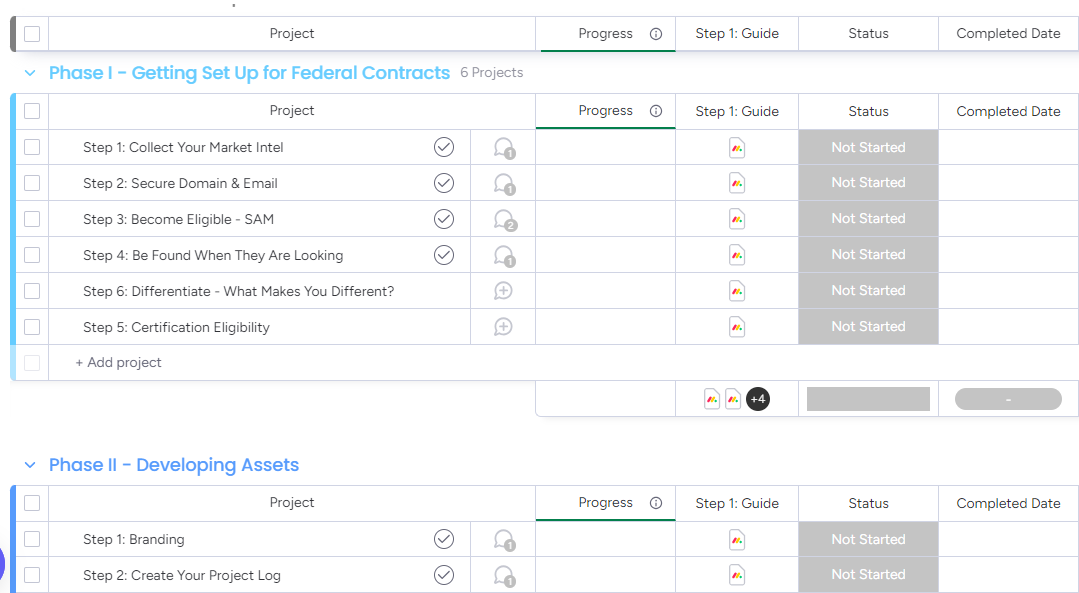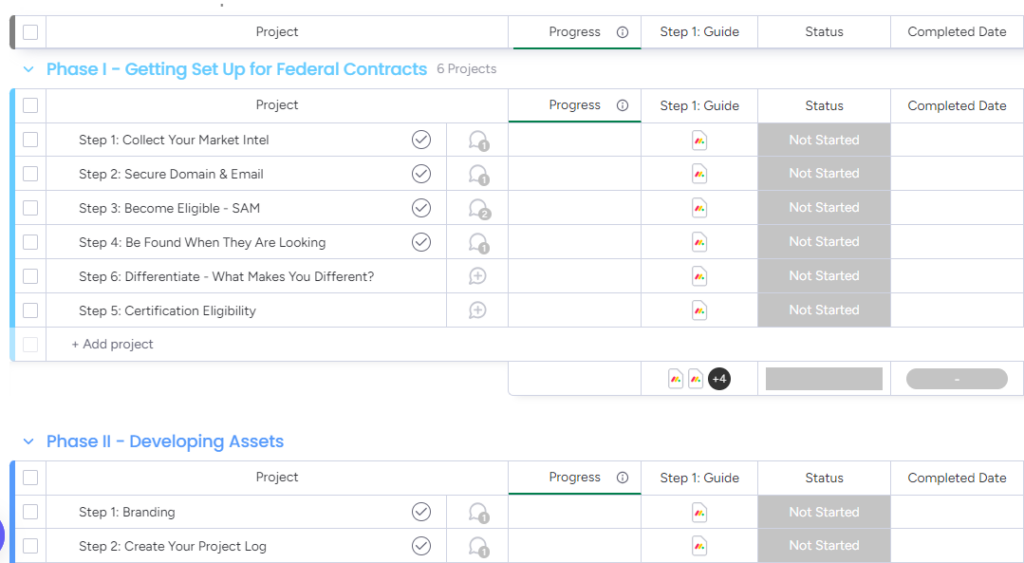 Discover the power of our innovative product with our first-tier DIY approach! We believe in empowering our customers to take charge and make the most out of our cutting-edge solution. With this option, you get to experience all the benefits at a lower cost, ensuring maximum flexibility for your unique needs.
Why Choose Option 1?
Budget-Friendly: Every customer has different financial considerations. That's why we offer a cost-effective month-to-month payment option, allowing you to make faster progress without breaking the bank.
Flexibility: With the DIY approach, you have the freedom to explore and implement the action items at your own pace. You're in control of the process, making adjustments according to your timeline and requirements.
Learn and Grow: By taking the hands-on route, you get to understand the complexities of government contracting firsthand, enabling you to gain a competitive edge.. Embrace the learning journey and see your skills flourish with support every step of the way.
Accessibility: ALL plans include access to our internal agency directory, a comprehensive resource to include agency strategic plans, unsolicited proposal process and contacts, procurement forecasts, and more! 
No Contracts or Long-Term Commitments: Pay as you go, cancel when you're finished.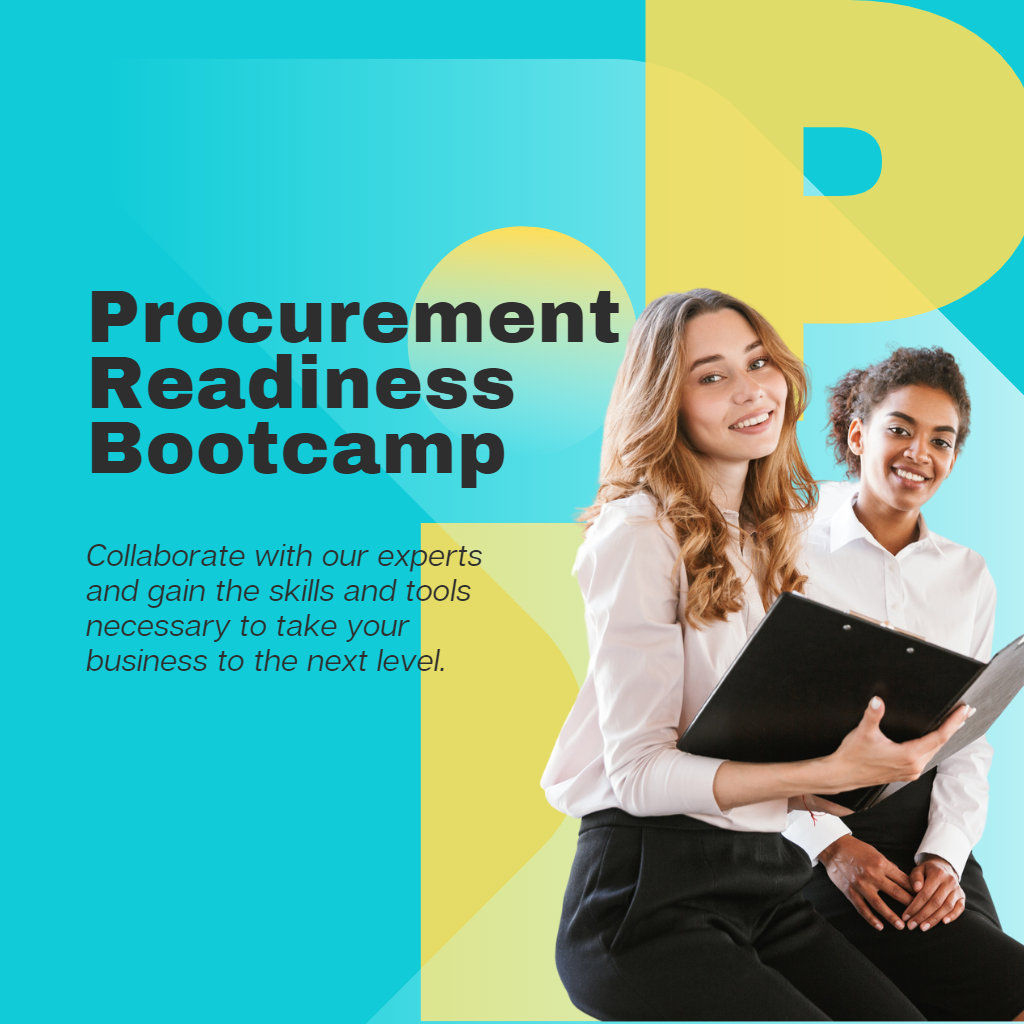 Why Choose Option 2?
Stress-Free Implementation: With our team of professionals at the helm, you can sit back and relax while we handle all the technical aspects and intricacies. Save valuable time and effort, knowing that your product is in capable hands.
Faster Results: Opting for the lump sum payment means we can expedite the process, getting your federal business up and running in no time. Benefit from quicker results and start reaping the rewards sooner.
Tailored to Perfection: Our experts will work closely with you to understand your unique requirements. We'll customize the strategy to align perfectly with your business objectives, ensuring it fits like a glove.
Option 2: Procurement Readiness Sprint Bundle
1. Strategic Kick-Off Meeting
There is so much more to being successful in government contracting than just knowing your NAICS codes and getting registered in SAM. Our experts will sit down with your team and get to know your business well, identify the milestones you've accomplished, and determine your path of least resistance moving forward to develop an engagement strategy that will help you build and strengthen relationships in the federal marketplace. During this meeting, we will put a proactive marketing plan in place and proceed with deliverables so that your team can execute without hassle.
2. Contract Data Analysis
Once we have a clear idea of your goals and core competencies in government contracting, we'll dive into the federal data and compile a report that will clearly depict the agencies who buys what you sell, how they buy, the procurement offices, as well as the government points of contact that you'll need to engage. From this research, we'll learn which NAICS and PSCs your targeted federal buyers use to procure your products and services to make sure your business has maximum visibility early in the procurement cycle, allowing us to proceed with the next steps in confidence.
3. System for Award Management (SAM) Optimization
Whether you're already registered or not, SAM has been a thorn in the side of contractors and government alike. Having processed hundreds of SAM registrations since its inception, we will take it off of your plate entirely, allowing you to focus on what you do well – running your business. After all, being eligible for a contract is not the same as being competitive.
If you've already registered, no worries. We'll perform a professional audit to ensure it's accurate and complete.
 4. Dynamic Small Business Search (DSBS) Profile Optimization
DSBS is the most powerful and most commonly overlooked tool for small business owners regarding visibility and exposure in the federal marketplace. Being found during the market research phase of the procurement cycle puts your company in the best position possible to receive Invitations for Bid (IFB) and micro-purchases while allowing you to influence your market indirectly by engaging early in the acquisition cycle. After all, how will they choose you if they can't find you?

5. Custom Capability Statement Design
A capability statement is your primary marketing tool in the federal marketplace. We incorporate industry terminology utilized by your targeted federal agencies to develop a custom, branded design that incorporates the results from your market research.
6. Custom Introductory Email Template
Not sure what to say to the government agencies once you've found them? No worries, we've got you covered.
Based on the market research from step 2, our coaches will write your introductory email to be compelling and engaging to encourage a capability briefing with the targeted agencies for your business. Our introductory emails have been proven to get meetings with the government for businesses of all sizes.
7. Early Engagement Strategy Session & Guide
Once we're finished with your deliverables, you will sit down with an experienced coach and train on how to communicate effectively, how to maintain control of the conversation, and how to speak the language of your future federal buyers. Your introduction is the first impression the government will have of your company and how you do business – make it a good one! Ultimately, you'll think more strategically moving forward to ensure you are capturing both opportunities and relationships – visible or not.
8. Execution Strategy Session
Before you execute, our engagement team will sit down and map out your action plan, review your research, and instruct you on utilizing the tools to maximize your ROI.
"Ashley Duwel provided a clear roadmap in my government contract journey. She assisted with market research, capability statement and business cards with QR code that links to capability statement. My experience has been phenomenal as Ashley is unselfish sharing other professional resources to take your business to the next level. I look forward to a long lasting professional relationship."
"Ashley was very thorough and very insightful about the process to get government contracts. I look forward to us working together as we navigate through the SBA and government contracting process. "
"Ashley was wonderful. She has led me in the right direction with what I need to be successful with government contracting."
"I've never been disappointed each time I meet w/ Ashley. She definitely understands the struggles of small businesses (SBs) and is willing to do her part to alleviate the stresses SBs encounter daily."
"Extremely knowledgeable on government contracts, very patient, and dedicated to helping small business owners to have success in government contracting."